Powerful calculators, ready to use.
Empower your customers to make informed financial decisions and enhance your digital experience with powerful calculation engines and interactive tools.
We offer a range of calculators within the lending, wealth management and insurance space. The calculators can be set up in your brand and displayed on your website with minimal effort and time.
Lending Suite
Lending Plus
Wealth Suite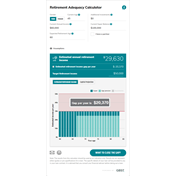 Retirement Adequacy
{{Product.MinimumPrice.DiscountPercentage}}% off
{{Product.MinimumPrice.PromotionDiscountAmount | currency}} off
Special Deal
({{Product.CategoryName}} - {{Product.MinimumPrice.UnitOfMeasure.Quantity}} {{Product.MinimumPrice.UnitOfMeasure.Description}})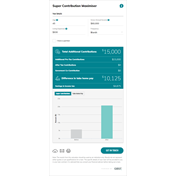 Super Contribution Maximiser
{{Product.MinimumPrice.DiscountPercentage}}% off
{{Product.MinimumPrice.PromotionDiscountAmount | currency}} off
Special Deal
({{Product.CategoryName}} - {{Product.MinimumPrice.UnitOfMeasure.Quantity}} {{Product.MinimumPrice.UnitOfMeasure.Description}})
Insurance Suite